🇮🇹 Italian Description (english below)
Advertising
In vista della WWDC 2022 per il 6 Giugno noi dello staff di iSpazio e Shortcuts Central abbiamo creato un comando rapido per creare uno sfondo personalizzato con la vostra Memoji dietro ad un MacBook M1 oppure un iMac M1. Richiede iPhone X o superiori.
Per una buona riuscita nel creare uno sfondo personalizzato si dovranno compiere dei semplici passaggi.
Istruzioni per creare il proprio sfondo personalizzato WWDC 2022:
Scaricate questo shortcut ed installatelo, poi aprite l'applicazione Note di iPhone
Inserite il vostro Memoji Sticker preferito
Chiudete la tastiera e toccate una volta sull'immagine per aprirla a tutto schermo. Cliccate il tasto Condividi
Adesso cliccate su "Salva immagine" per salvare la Memoji in PNG trasparente nella vostra Galleria
A questo punto aprite l'applicazione Comandi, cliccate su meWWDC22 e fate partire il comando. Una procedura guidata vi farà svolgere i vari passaggi e le varie personalizzazioni fino al risultato finale.
Video:
Non è possibile aprire "MeWWDC22" – Cosa fare se visualizzate questo errore quando cercate di installare questo Comando: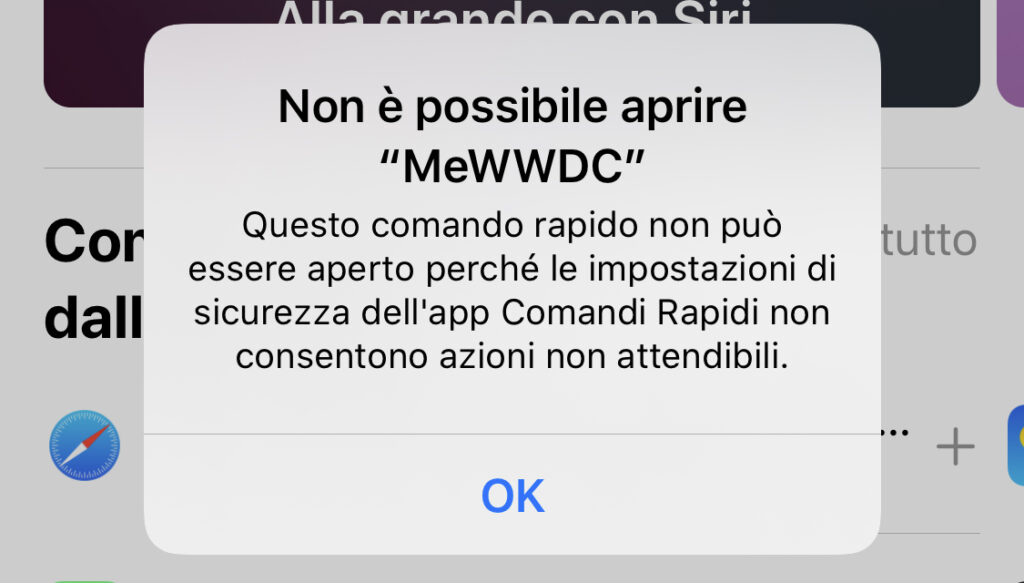 L'errore è facilissimo da risolvere. Cliccate qui per aprire le FAQ con la soluzione.
🇺🇸 English Description
How to create your own custom WWDC 2021 wallpaper:
Download this Shortcut then open the Notes app and create a new note.
Type your favorite Memoji Sticker and close the keyboard.
Tap on the sticker image to open it in full screen. Tap on the Share icon then Save Image in your iPhone Camera Roll
Open Shortcuts App, select "meWWDC 2022" and follow the instructions to customize and obtain the custom wallpaper.
Advertising